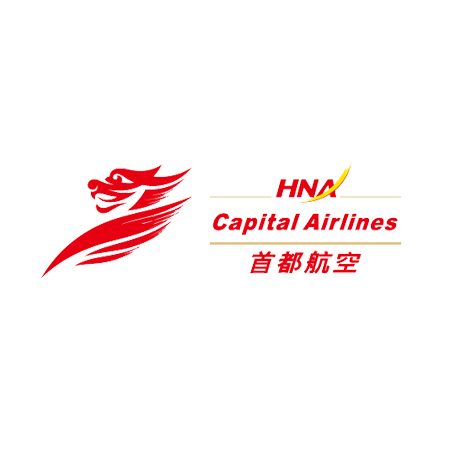 Position: A330 CAPTAIN
Base:  Beijing, Xian, Guangzhou, Sanya, Haikou and Hangzhou
Contact: Elaine Lu
Email address: elaine.lu@chinaaviationjob.com
Mobile: +86 186 2170 2419
Whatsapp: +86 186 2170 2419
Wechat: elaine0725lmm
Founded in November 16, 1998, Capital Airlines always implements the philosophy of safety and security is lifeline"? It gains strong capability and profound experience to handle challenges and emergencies by paying a great attention to security management. As of today, BCA has already possesses 73 aircrafts, among which 71 are A319/A320/A321, 2 are A330.
Working Option
Resident Option
Option 1
Option 2
Option 3
Option 4
Total Monthly Salary
24,666 USD Made up of:
23,166 USD Made up of:
20,166 USD Made up of:
16,083 USD Made up of:
Contract Term
4 years initial/Renewable according to the performance of the crew members
Commuting Pattern
30 duty free days in peak season or 45 duty free days in low season/year
6 weeks on 2 weeks off
6 weeks on 3 weeks off
4 weeks on 4 weeks off
Paid annual leave
 14 days/year
12 days/year
10 days/year
–
Paid sick leave
7 days per year, renewed pilots +1 days per year,max 12 days
Yearly block time
 920 hours
720 hour
650 hours
500 hours
Basic monthly salary
 19,000 USD
  18,000 USD
  16,000 USD
  13,500 USD
Overtime payment
 300 USD/hour
 250 USD/hour
 200 USD/hour
 200 USD/hour
Living Allowance
 3,000 USD/month
 2,500 USD/month
 2,000 USD/month
 1,000 USD/month
Completion Bonus
  16,000 USD/year
 13,000 USD/year
 10,000 USD/year
 Renewed pilots got 1,000 USD per year
Safety Bonus
 6,000 USD/year
5,000 USD/year
3,000 USD/year
Travel Allowance
10,000 USD/year
 8,000 USD/year
 6,000 USD/year
Education Allowance for children
1,000 USD/month
Ticket Benefit
      Pilots receive unlimited ID80 for domestic routes and ID90 for international routes, 30 return tickets for their immediate family members. (Apply to all HNA Group operated routes)
Other Benefits
      Discount of International School for children; International Health Insurance; Inability Insurance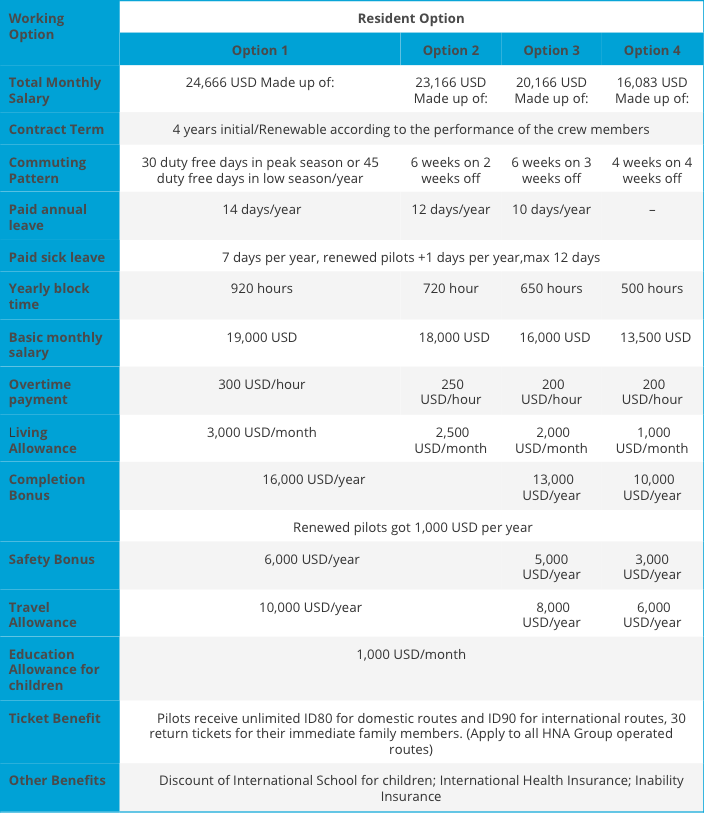 Title
Captain
Requirements
Total Flight Hours
4000+
Type Rated Hours
PIC1000+ on type
Last Flight on Type
Within 6 months
ATPL
Valid
ICAO English
Level 4 or above
Age
Less than 55 years old
Medical Certificate
First Class
Passport
Valid for at least 12 months
Criminal Record
No
History of Incident and Accidents
No
* REQUIRED. WE WILL RESPOND WITHIN 24 HOURS.