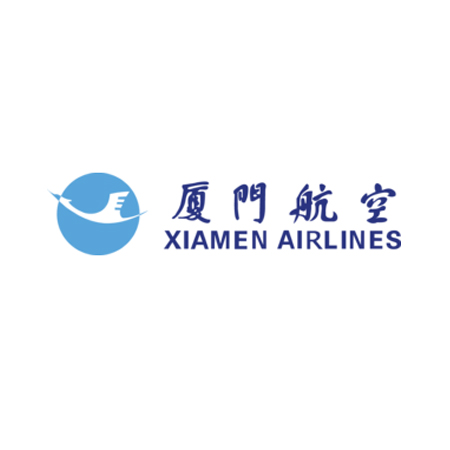 Position: B737 CAPTAIN
Base:  Xiamen, China
Contact: Yufeng Consulting
Email: yufeng@chinaaviationjob.com
Telephone: +86 181 1716 9909
Whatsapp: +86 181 1716 9909
Wechat: yufengconsult
Xiamen Air is the fourth biggest airline company by domestic capacity in China and contributes 7.2% of the domestic capacity in China. By early 2014, Xiamen Airlines has 6 branches in Fuzhou, Nanchang, Hangzhou, Tianjin, Changsha and Beijing. The airline operates 218 domestic routes along with 26 international routes (Including routes to Hong Kong, Macau, and Taiwan). It flies over 3,600 flights per week.
Option
1
2
3
Annual Income
328,310 USD Made up of:
315,110 USD Made up of:
263,510 USD Made up of:
Contract term
3 years, renewable
Commuting Pattern
Non- commuting
22 days-on 8 days-off
44 days-on 16 days-off
19 days-on 11 days-off
38 days-on 22 days-off
Vacation
42 days
94 days
96 days
130 days
132 days
Monthly Salary
23,200 USD
22,100 USD
18,300 USD
Overtime Pay
300 USD/hour
280 USD/hour
250 USD/hour
Yearly block hour
900 hour
780 hour
Living Allowance
10, ooo RMB/month
Ticket Allowance
6,000 USD/year
Safety Bonus
24,000 USD/year
18,000 USD/year
Education Allowance
8,000 USD/kid/year (N0 more than two kids)
Insurance
2,000 USD/year
Contract Renewal Bonus

15,000 USD after each renewed contract year for the second contract;

20,000 USD after each renewed contract year for the third contract

Ticket
5 free tickets + 5 ID 75 tickets per year (regional and international flights by XMN) for employee and immediate family
Performance Bonus
Additional bonus paid depending on the yearly financial performance of the Company and the personal performance of the Employee.
Radiotelephony Instructor Bonus
400 USD
Simulator Instructor Bonus
500 USD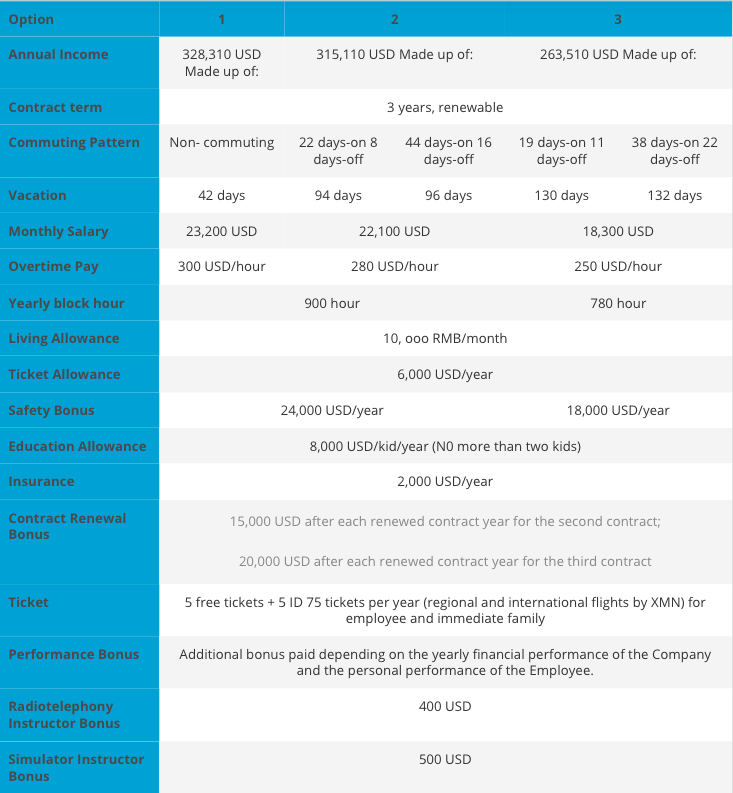 Title
Captain
Requirement
Total Flight hours
5000+
Type Rated Hours
PIC 500+ On type
Multi-Crew, Multi-engine jet time
2,000 hour+
Last Flight
Within 12 months
ATPL
Valid
ICAO English
Level 4 or above
Age
Less than 55 years of age at the start of the assignament
Medical Certificate
First Class
Criminal Records
No
History if incidents and Accidents
No
* REQUIRED. WE WILL RESPOND WITHIN 24 HOURS.