Puesto: B787 Capitán
Base: Shanghai,China
Contacto: Yufeng Consulting
Email: yufeng@chinaaviationjob.com
Teléfono: +86 181 1716 9909
Whatsapp: +86 181 1716 9909
Wechat: yufengconsult

Juneyao Air es una de las aerolíneas de más rápido crecimiento en Shanghai, China. Es dueña de 67 nuevas aeronaves Airbus A320 y A321 a través de auto compra y arrendamiento, y sus rutas de vuelo procedentes de Shanghai (Hongqiao y Pudong Airports) cubren más de 75 ciudades. También abrió rutas de vuelo internacionales (regionales) a Chiangmai, Phuket, Bangkok, Jeju, Gangwon-do, etc., etc. Desde su inicio ha mantenido un buen registro de operación de seguridad.
Option
 Residential
 10 days off per month
 Remarks
Minimum Flight Hour (Year)
850
780
 By annual review
Monthly Salary (USD/Month)

20,000

16,200
Completion Reward (USD/Contract)
35,000
 29,000
330/350/380/7/767: 5 years 747/777/787: 4 years
Overtime Pay
300
250
Annual paid
Home-leave Expense (Up to) (USD/Year)
12,000
8,000
Annual paid, reimbursement
Sudden Flight Reward (USD per occurrence)
120
Annual paid
Safety Measurement 
Instructor/PIC: 8 USD/hour Other positions: 4 USD/hour
Overnight Out-base Allowance 

Mainland China: USD 30/ night; other country and region: USD 50 /night

Special Airport Allowance (Up to) (USD per T/O)
Aplicable
Temporary Accommodation 
15,000 RMB (one time pay)
Discount Tickets 
 4 round-way standby tickets; 5 round-way 75 % off tickets
Health Insurance
Aplicable
Loss of Medical Certificate Insurance 
Education 
Rental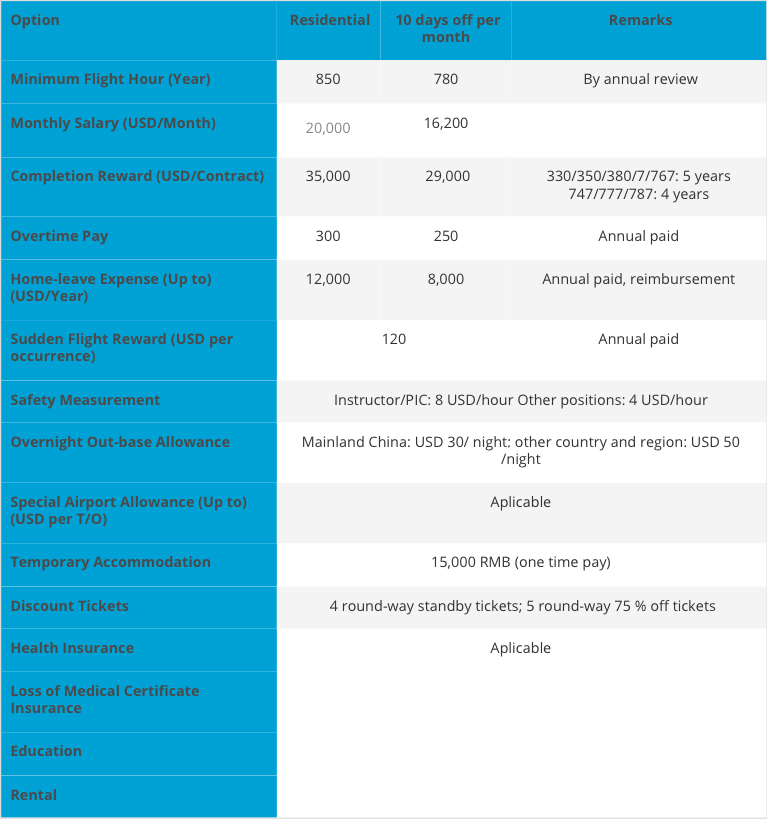 Puesto
Capitán
Requisitos
Total de horas de vuelo
5000+
Total de horas calificadas
PIC 500+ en B787
Último vuelo 
Dentro de los últimos 12 meses
ATPL
Vigente
Inglés ICAO 
Nivel 4 o superior
Edad
Menor de 50 años
Certificado Medico
Primera clase
Passaporte
Vigente
Antecedentes penales
No
Historial de incidentes y accidentes
No
Ser ciudadano de un país con relaciones diplomáticas con la República Popular China y ser miembro de la ICAO.
* REQUIRED. WE WILL RESPOND WITHIN 24 HOURS.