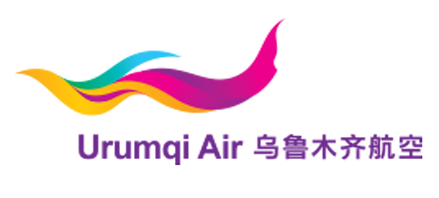 Position: E190 CAPTAIN
Base:  Urumqi, China
Contact: Lei Qinlei
Email address: lei@chinaaviationjob.com
Mobile: +86 186 2794 6246
Whatsapp: +86 186 2794 6246
Wechat: Turandot002
Urumqi Air, an airline subsidiary of the Hainan Group, was created on November 18, 2013. Urumqi Air aims to create a legendary brand with local features.
Option
1
2
Commuting pattern
255 yearly working days, 110 leave days
274 yearly working days, 91 leave days
Description 
Cannot exceed 14 days of days off consecutively during slow season, cannot exceed 5 days off during training months, cannot exceed 11 days off during the busy season (refers to company's schedule for that year)
On duty for 6 weeks consecutively and 2 weeks off duty. (42 days on & 14 days off)
Contract term
3 years, renewable
Sick leave 
6 days per year
Monthly salary 
17,000 USD
18,300 USD
Annual flight hour 
960 hours
Overtime Pay 
240 USD/hour over 80 hours/month
Safety bonus 
15,000 USD/year
Travel allowance 
10,000 USD/year, 5,000 USD will be paid every 6 months
Loyalty rewards 

1st year 8,000 USD

2nd year 12,000 USD

3rd year 15,000 USD

15,000 USD/year after three years

Ticket Benefit
Unlimited jump seat domestic tickets within HNA network for pilot; and unlimited 75% off discount standby tickets on HNA domestic flight for pilot and his/her direct family members
Insurances 

1. Employer's liability insurance (with additional disease medical insurance).

2. Pilot and company each covers 50% of grounded insurance based on pilot's own will.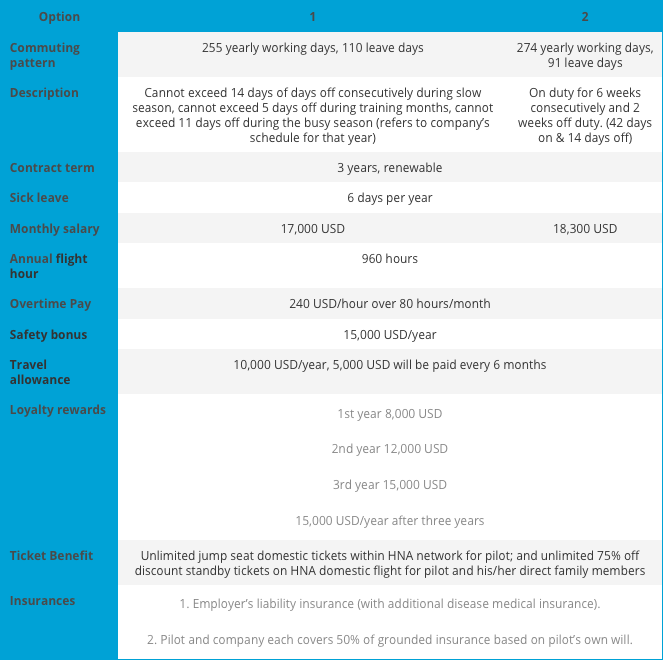 Title
 Captain
Requirements
Total Flight Hours
 2200+
Type Rated Hours
500+ PIC on type
Last Flight
Type rated within 12 months, other within 6 months
Last Proficiency Check 
Valid
ATPL
Valid
ICAO English
Level 4+
Age
Less than 55 years old
Passport 
Valid for 12 months+
Medical Certificate
First class and valid
Criminal record
No
History of incidents and Accidents 
No
Being a citizen of an ICAO member which has diplomatic relationship with P.R.C.
* REQUIRED. WE WILL RESPOND WITHIN 24 HOURS.