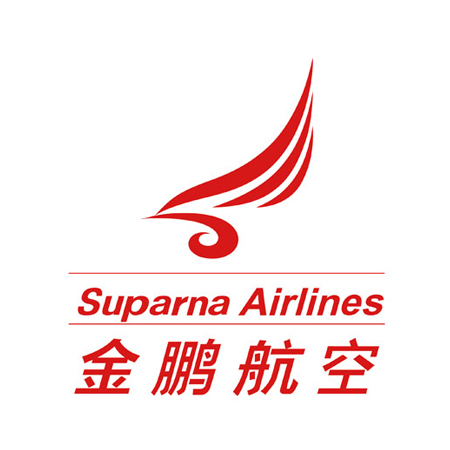 Position: B737 CAPTAIN
Base:  Shanghai, China
Contact: Yufeng Consulting
Email: yufeng@chinaaviationjob.com
Telephone: +86 181 1716 9909
Whatsapp: +86 181 1716 9909
Wechat: yufengconsult
Suparna Airlines is an airlines with its headquarters in the Pufa Tower in Pudong, Shanghai. Started and flourished as a Cargo airlines, it has become a Passenger airlines since December 2015 with launches of domestic passenger flights from Shanghai-Pudong Airport to Guyang, Sanya and Zhuhai using a single Boeing 737-800. Permission was also granted for international flights to Hong Kong, Macau and Taiwan.
Work Option 
1
2
3
Total Monthly
23,500 USD
19,500 USD
18,400 USD
Contracting Mode
same as Chinese pilots
9 consecutive days off per month
45 days on *15 consecutive days off
*Basic Monthly Salary
17,000 USD
13,000 USD
12,000 USD
Paid Leave
15 days annual leave; 7 days sick leave
*Merit Pay
2,000 USD/Month
*Type Allowance
1,500 USD/Month
*Base Allowance
800 USD/Month
700 USD/Month
Housing Allowance
1,800 USD/Month
Transportation Allowance
400 USD/Month
*Overtime Pay
200 USD/Hour over 900 hours per year
200 USD/Hour over 60 hours per month
Loyalty Bonus
6,000 USD after 12-month service  12,000 USD after 24-month service  18,000 USD per year after 36-month service
Contract Renewal Bonus
Renew contract for more than 3 years after expiration: 20,000 USD bonus + 4 free domestic tickets
Free Tickets
For Pilot and his family members: 1st year: 2 internationals & 6 domestics;  2nd year: 4 internationals & 8 domestics; 3rd year and following: 6 internationals & 10 domestics Plus annual no more than 60 staff discount tickets within HNA airlines
Instructor Benefits
 If  a crew member gets an instructor certificate issued by CAAC Class-B Instructor allowance: 800 USD per month Class-C Instructor allowance: 1,500 USD per month  Hourly wage and inspection fees will be paid according to company standards for simulator instructional flights, inspection and base training missions.
Notes: Co-pilot will be paid with 70% of items with *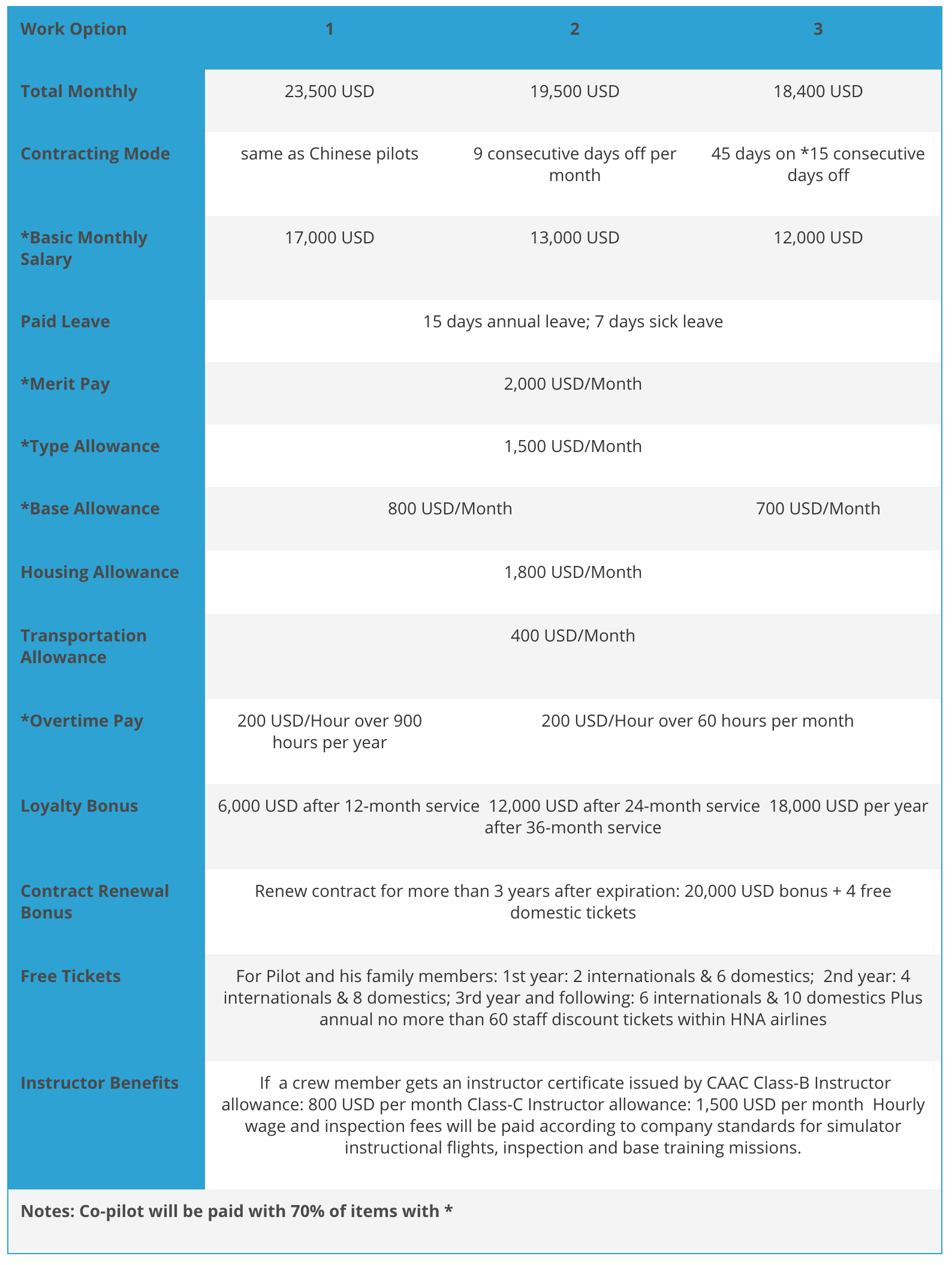 Position
Captain
Copilot (Has CAAC license)
Requirements
Total Flight Hours
5000+
3000+
Total Rated  Hours
500+
Last Proficiency Check
Within 6 months
ATPL
Type rated; Valid
Age
Less than 55 years old
ICAO English
Proficient in air-navigation communication
Medical Certificate
Class I; Within 6 months; Valid
Passport 
Valid
Criminal Record
No
History of Incidents and Accidents
No
Be a citizen of a country with diplomatic relations with PRC and member of ICAO
* REQUIRED. WE WILL RESPOND WITHIN 24 HOURS.