ERICK SILVA, CEO OF YUFENG CONSULTING
SEEKING PILOTS FOR A NEW PROFESSIONAL OPPORTUNITY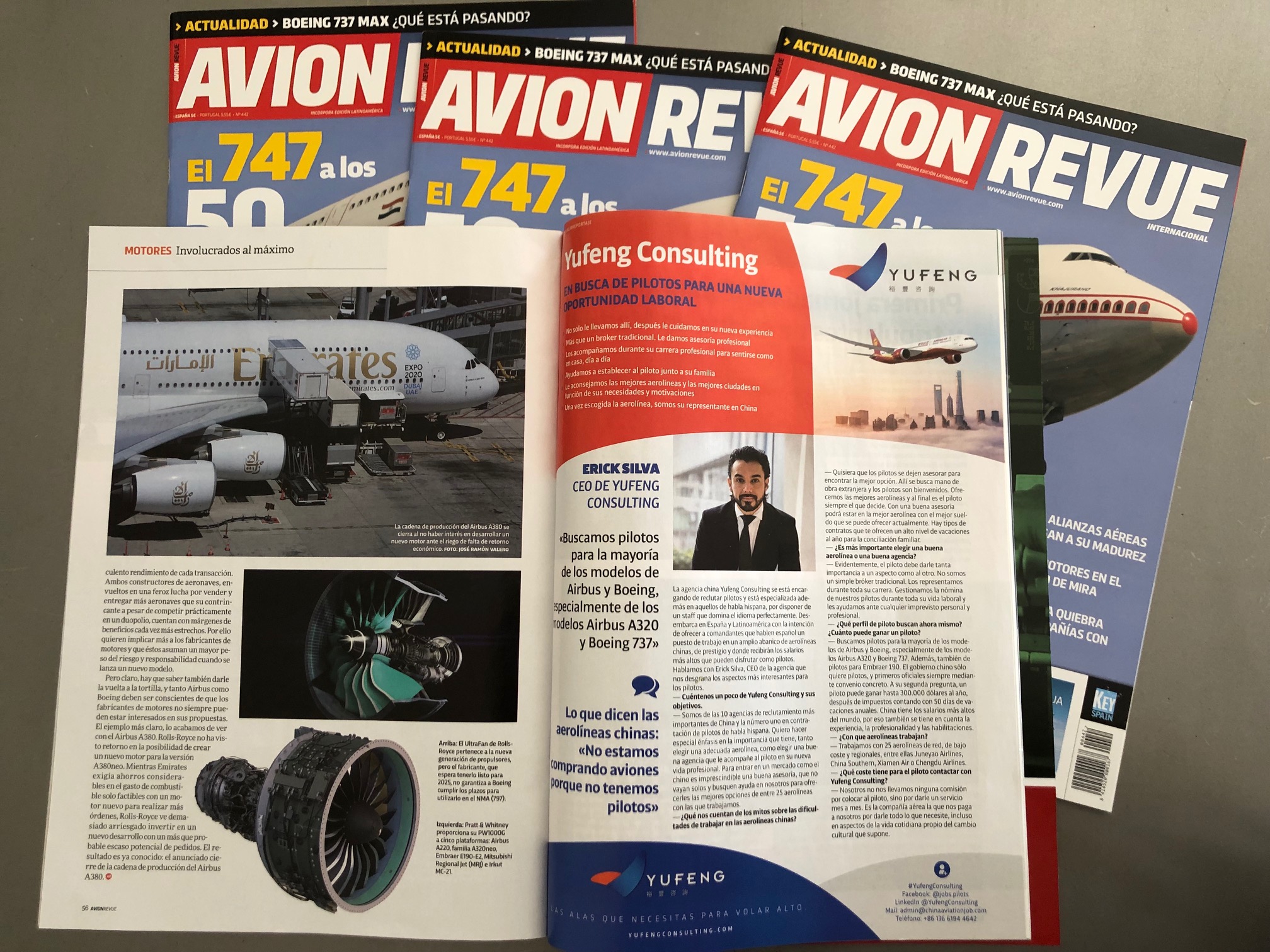 The Chinese Agency Yufeng Consulting is in charge of recruiting pilots, being specialized in those of Spanish speaking, for having a staff that perfectly knows the language. They disembark in Spain and Latin America with the intention of offering Captains who speak Spanish a job in a wide range of Chinese airlines, where they will receive the highest salaries that they can enjoy as pilots. We speak with Erick Silva, CEO of the Agency, who shows us the most interesting aspects for the pilots.
–Tell us a little bit about Yufeng Consulting and its objectives
– We are one of the 10 most important recruitment agencies in China and the number one recruitment of Spanish-speaking pilots.
I want to make special emphasis on the importance it has, both choosing an appropriate airline and choosing a good agency to accompany the pilot in his new professional life. To start a new career in a new market like China it is very important to have a good advisory, to not be alone and to seek help, with us to offer you the best options among 25 airlines with which we work.
– What do you tell us about the myths about the difficulties of working in Chinese airlines?
– I would like the pilots to be advised to find the best option. There, foreign labor is sought and the pilots are welcomed. We offer the best airlines and at the end is the pilot who always decides. With good advice you can be in the best airline with the best salary that can be offered now. There are types of contracts that offer a high level of vacation per year for family conciliation.
WHAT THE CHINESE AIRLINES SAY: "WE ARE NOT BUYING AIRCRAFTS BECAUSE WE DO NOT HAVE PILOTS"
– Is it more important to choose a good airline or a good agency?
– Evidently the pilot must give as much importance to one aspect as the other. We are not a simple traditional broker. We represent them throughout their career. We manage the payroll of our pilots throughout their working life and help them with any personal and professional unforeseen event.
– What pilot profile are you looking for right now? How much can a pilot earn?
– We are looking for type rated Captains for most models of Airbus and Boeing 737. Also, pilots for Embraer 190. The Chinese government only wants Captains, first officers can be accepted only through a specific agreement. To your second question, a pilot can earn up to $ 300,000 a year, after taxes with 50 days of annual leave. China has the highest salaries in the world, so experience, professionalism and ratings are also considered.
 – With which airlines are you working now?
– We are working with 25 airlines, low cost and regional airlines, including Juneyao Airlines, China Southern, Xiamen Air and Chengdu Airlines.
– What is the cost for the pilot to contact Yufeng Consulting?
– We do not take any commission to place the pilot in China, only to give him a service every month. It is the airline that pays us to give you everything you need, even in aspects of daily life characteristic of the cultural change.